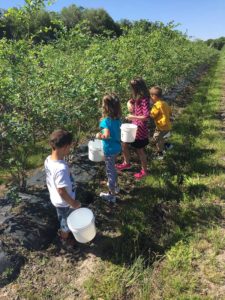 THE 2016 U-PICK BLUEBERRY
SEASON IS HERE AND WE ARE OPEN 7 DAYS A WEEK
THROUGH MEMORIAL DAY AT LEAST

We have now ended all commercial picking and the u-pick is open seven days a week. U-pick is available all week long. We will be open through Memorial Day weekend for sure and perhaps the following week. This has been one of our best seasons yet. We have huge blueberries on the bushes.

Open from 9 AM  through 5 PM. We provide the buckets and weigh the blueberries that are actually picked. Although the market price varies, typically the price runs approximately 4 dollars a pound which is roughly 1/2 of the typical grocery store price.
We do have picnic tables under shade trees so that you have the opportunity to make it a real outing, and we are conveniently located right on US Highway 301 approximately 18 miles north of Ocala. We would very much enjoy having you and your students come visit us at Aunt Zelma's Blueberries.
Zelma's Blueberries offers a U-Pick option for our customers. We love to have people out at the farm and have made our You-Pick season a key part our our blueberry growing operation. Picking season varies depending on weather and when the berries ripen in the fields.
Picking starts around 10 a.m. as soon as the berries dry.
If you have a group larger than 15 people or have any special needs, please call ahead so we can have extra staff on site to help out. Our number is 407.647.2777.
We are open seven days a week, but the focus on you pick is Friday Saturday and Sunday, with the hours from 10 AM to 5 PM. Frankly we usually close about six because we still have people in the field at that time.
We have seven varieties of blueberries on the property, including Windsor and Sweet Crisp.
The weather has been very favorable for blueberries this year and we have an exceptionally good crop.
We hope to see everyone out at the farm. Look for our blueberry signs on U.S. 301 in Island Grove near Cross Creek and just 18 miles north of Ocala near Country Road 325 from Gainesville, Florida.