Welcome to our new section where we share our favorite blueberry recipes with you.
We would love to hear about some of your favorite recipes, too. So please send us your recipes through our contact form here.
---
AUNT ZELMA'S BLUEBERRY RECIPES
QUICK AND EASY BERRY PIE
1 prepared, baked and cooled pie crust
1 (8 oz.) pkg. cream cheese (room temperature)
8 ounces Cool Whip
1/2 cup sugar
2 cups fresh blueberries
Cream the cream cheese and Cool Whip together.  Add sugar and mix well so the sugar is no longer grainy.  Fold in blueberries.  Pour mixture into cooled crust and chill in refrigerator for an hour or two, before serving.
---
FRESH BLUEBERRY MUFFINS WITH CRUMB TOPPING
3/4 cup sugar
1-1/2 cups All Purpose flour
2 tsp. Baking powder
1/2 tsp. Salt
1/3 cup vegetable oil
1 egg
1/2 cup milk
1 tsp. Vanilla
1-1/2 cups fresh blueberries
Topping
1/2 stick butter, softened
1/2 cup sugar
1/4 cup brown sugar, packed
1/3 cup A. P. Flour
1-1/2 tsp. Cinnamon.   Preheat oven to 375F.  Prepare muffin pans with liner cups.  In a bowl, combine sugar, flour, baking powder, and salt.  With a mixer, combine oil, egg, milk, and vanilla.  Beat in dry ingredients.  Fold in fresh blueberries.  Pour into muffin cups.  Combine ingredients for topping and sprinkle on top of muffin batter.  Bake for 20 to 25 minutes for regular muffins; and 10 to 12 minutes for mini muffins.
Yields:  12 regular muffins or 36 mini muffins.
---
FREEZING BLUEBERRIES
Everyone has their own ideas about freezing berries.  Below I am sharing the way I freeze mine.
Wash berries by submerging in cool water; rinsing, and then draining in a colander.  When mostly dry, roll berries around on a large, clean bath towel to complete the drying process.  Pour dry berries in a single layer onto a large sheet pan.  Place pan in freezer for an hour or two.
Then pour the frozen berries into a freezer bag. Berries will be separate and easy to measure out whatever you need.  Store these in the freezer for a year or more.  I really enjoy having the berries clean and ready to use at any time.
---
BLUEBERRY CRUMBLE
A wonderful dessert with ice cream or a fabulous breakfast with bacon. Or use it for both. The recipe follows.
For The Filling:
3 cups fresh blueberries
1 tsp. Cornstarch
1/4 cup sugar
1 Tbs. fresh lemon juice
For the Topping:
1/4 cup finely chopped pecans
1-1/2 c. A.P. Flour
1/2 cup light brown sugar.
1 stick unsalted butter ( chilled and cut into small bits.)
1/4 tsp. Salt
Preheat oven to 350 degrees F.
Make filling: In a large bowl.  Combine the  blueberries, sugar, cornstarch, and lemon juice.  Stir to coat the berries. Transfer the mixture into a 2 quart, shallow baking dish.  Set aside.
Make the Topping:
In a large bowl, combine the flour, brown sugar, salt and pecans in a large bowl. Using a fork or your fingers, mash the ingredients together until it resembles coarse crumbs.
Sprinkle the topping mixture, evenly, over the berry mixture.  Bake in the center of the oven for 30 to 40 minutes, until the topping is nicely browned, and the berries are bubbling. Serve warm or at room temperature.  Ice cream is a wonderful accompaniment if served as a dessert.
Serves 4 to 6.
---
CARLY'S BLUEBERRY SORBET
Wash your fresh berries and freeze them for a day or so.  They need to be frozen.
Make a simple syrup.  (Equal parts of sugar and water)  I would think you would want to use at least 1 cup of each.  Allow the syrup to cool completely.  This simple syrup will keep in the refrigerator for a week or more and is often used to sweeten cocktails.  This sorbet is sweetened according to your particular taste, so if you prefer tart sorbet, you can lighten up on the syrup.  If you prefer sweet sorbet, you can add a little extra. It was mentioned that using Agave Nectar would make this a bit healthier by skipping the sugar altogether.  That would be an experiment if you are feeling adventurous.
Zest a lemon and squeeze the lemon juice.  Set aside.
Add frozen berries to the blender and  begin to blend.  Add the syrup as you are blending. Also add the lemon zest and lemon juice.  I would think a
Tablespoon of zest and 2 Tablespoons of juice would be about right, but, again, this is according to your taste.  When all ingredients are thoroughly blended together and you are happy with the taste,  place it in a freezable container and store in the freezer. Let us know how yours turns out.  Happy Blueberry Picking!  Hope to see you at AUNT ZELMA'S.
---
BLUEBERRY CHUTNEY
Chutney- a sweet-tart, sometimes spicy, combination of fruits and spices used as a relish or condiment. Chutneys can be served with grilled, roasted or smoked meats, poultry, or fish. They make a wonderful appetizer when poured over a brick of cream cheese and served with savory crackers.
YIELD 3 cups
1/2 cup red wine vinegar
1/3 cup light brown sugar
1/4 c finely chopped crystallized ginger
Zest of 2 lemons, finely chopped
Juice from 2 lemons
1/4 tsp ground cinnamon, 1/8 tsp crushed red pepper flakes, 4 whole cloves
4 cups blueberries, fresh or frozen.
In a medium size, non reactive saucepan heat the vinegar and sugar over low heat.  Simmer for 6 minutes, until slightly reduced. Add ginger, lemon zest, lemon juice, cinnamon, red pepper flakes, and cloves, and simmer 4 minutes.
Stir in blueberries and simmer for 2 minutes only.
Remove from heat and allow to cool. Pour in container, cover tightly, and refrigerate. This will keep 1 week in the refrigerator.
---
LENA'S FRESH BLUEBERRY PIE
Lena stopped by the farm on Friday to buy some fresh berries. She gave me this recipe.  It is really a new spin on blueberry pie because the berries are NOT cooked.  I saw a picture of the one she had made and it was beautiful.  Her recipe follows.
1 cup water
1 cup sugar
2 Tablespoons cornstarch
1 already baked empty pie crust
4 Tablespoons Lemon jello powder
4-5 cups washed fresh blueberries.
Bring the water, sugar and cornstarch to a slow boil on the stove.  Cook, stirring, until this mixture thickens.
Then remove mixture from the heat and stir in 4 Tablespoons of Lemon Jello powder.
Allow mixture to cool and then add 4-5 cups of washed fresh blueberries.  Mix the berries in and  then pour the filling into the already baked and cooled pie crust. You could probably use a graham cracker crust as well.   Chill the pie for a couple of hours before serving.  If desired, you can serve it topped with fresh whipped cream that has been lightly sweetened with sugar.
Lena says her friends go crazy over this pie!   Please stop by and let us know how yours turns out!
---
SOUR CREAM BLUEBERRY PANCAKES
From Carol Hadley
1c. milk
1 egg
1/4 c. sour cream
1 c. all purpose flour
1 TBS. baking powder
1 TBS. sugar
1/4 tsp. salt
2 TBS. melted butter or margarine 1/2 c. fresh blueberries
Combine milk, egg, and sour cream; beat well. Stir together flour, baking powder, sugar and salt. Add to milk mixture. Mix just until large lumps disappear. Stir in melted butter. Fold in the fresh blueberries. For each pancake, pour about 1/4 cup batter onto a hot, lightly greased griddle. Turn pancakes over when tops are covered in bubbles and edges are slightly dry. Serve with blueberry or maple syrup. Yield 12 (4") pancakes.
---
VERY BERRY TRIFLE
From Carol Hadley
2 cups each: fresh blueberries and sliced strawberries,
and 1 cup fresh raspberries. (You could use 5 cups of only one or two fruits if you wish.) 3/4 cup confectioners' sugar
3 tsp. vanilla extract
1 1/2 cups heavy cream
1 tsp. orange extract (optional) or orange zest.
1/4 cup low fat sour cream (full fat will work as well)
4 cups angel food cake, cubed.
1.) Toss berries with 1/4 cup of the sugar (reserve 1/2 cup for later) and 2 tsp. of the vanilla. (reserve last tsp. for later) Set aside.
2.) Beat the heavy cream with the remaining sugar, remaining vanilla, and orange zest or extract; until soft peaks form. Then gently fold in all the sour cream. Set aside.
3.) In a glass serving bowl, layer 2 cups of the cake cubes and half the berry mixture and half of the whipped cream mixture. Repeat layers, ending with the cream mixture. Garnish with some berries on top. Refrigerate for at least 2 hours.
This is a beautiful dessert and very quick and easy and will serve 12.
---
DRIED BLUEBERRIES
Courtesy of Ruth Kasper of Jacksonville.
She sent us a recipe for dried blueberries.  These are a healthy snack and great for baking as well.
Preheat oven to 225 degrees.
1cup blueberries
1 tsp. honey
Toss ingredients together in a bowl and pour onto a parchment paper lined baking sheet, until shriveled but still supple.  About 2 hours. Cool berries completely before storing in an airtight container.  Berries will keep up to one month.
---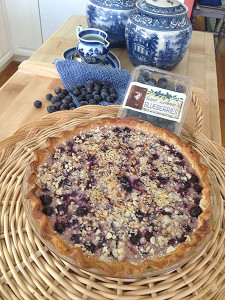 SWEET CREAM BLUEBERRY PIE
From Carol Hadley
1 Cup sour Cream
2 Tablespoons all-purpose flour
3/4 Cup sugar
1 teaspoon vanilla extract
1/4 teaspoon salt
1 large egg, beaten
2 1/2 Cups fresh blueberries
1 unbaked 9-inch pie shell
3 Tablespoons all-purpose flour
1 1/2 Tablespoons butter
1 1/2 Tablespoons sugar
3 Tablespoons chopped pecans
Combine first 6 ingredients; beat until smooth, (4-5 minutes, medium speed electric mixer).
Fold the fresh blueberries into the cream mixture.
Pour filling into the pie shell; bake at 400 F for 25-35 minutes. Remove from oven.
Combine remaining ingredients to make a crumble topping by blending with a fork.
Sprinkle over top of pie.
Return pie to oven and bake an additional 10 minutes.
Cool on counter and then chill pie in the refrigerator before serving.
Serves 8-10.
---
BEST BLUEBERRY PIE
From Carol Hadley
I experiment all the time trying to outdo myself on blueberry recipes. This one has finally come to the point where I don't think I can make it any better.
It is also pretty easy. The blueberry sauce or mixture could also be put in a dish and topped with the crumble, skipping the pie shell altogether. Either way it is delicious.
3 c. blueberries (fresh or frozen) plus 2 more cups (fresh) berries for later
1/4 c. Cornstarch
2/3 c. sugar (add more or less to taste, if needed)
2 TBS fresh lemon juice
1/2 tsp fresh lemon zest
1/8 tsp allspice
1/8 tsp cinnamon
1/8 tsp salt
dash almond or vanilla extract, or both.
Wash berries thoroughly. Add 3 cups of berries to a large saucepan. Mix in all other ingredients except the 2 cups of fresh berries and the extracts.
Those will go in later.
Cook mixture on the stove, crushing some of the berries and bring the mixture to a boil and cook until thickened like a pie filling. Remove from heat and
cool mixture until no longer warm.
Then stir in the extracts and the fresh uncooked berries. This is now your pie filling. I usually use a serrated spoon to fill the baked pie shell with this mixture, making sure it is the consistency I want it to be. I serve it with the topping below, but an open face pie or lattice crust would work well too.
Crumble topping for pie:
1/2 c. AP flour
1/2 c. brown sugar
1/4 c. granulated sugar
1/2 c. dry oats
pinch of salt
6 TBS cold butter cut in small pieces.
Add all of the above to food processor and pulse until crumbly.
Put on top of filling and bake at 375 degrees for 20 minutes or until lightly browned.
Serve pie warm with a scoop of vanilla ice cream.
Everyone will love this!
---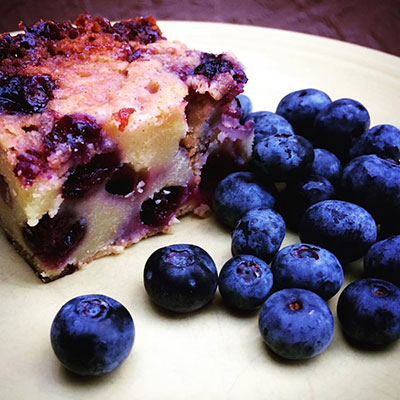 LEMON BLUEBERRY BREAD
From Julie Hadley
Topping:
1/2 cup sugar
1/3 cup unbleached all purpose flour
1/2 stick unsalted butter (room temp)
1 teaspoon grated lemon zest
1/2 teaspoon ground cinnamon
3/4 cup sugar
1/2 cup milk
1/2 stick unsalted butter (room temp)
1 egg
2 cups unbleached all purpose flour
2 teaspoons baking powder
1/4 teaspoon salt
2 cups fresh blueberries
1 tablespoon grated lemon zest
Preheat oven to 375.
Oil 9×5 loaf pan.
Stir topping ingredients till smooth. Set aside.
In a separate bowl, stir sugar, milk, and egg until smooth.
In a third bowl, toss flour, baking powder and salt. Stir this into wet ingredients. Fold in blueberries and lemon zest.
Put in loaf pan. Sprinkle with topping.
Bake (about 50 minutes) until golden brown and thick crust. Cool 5 minutes. Transfer bread to wire rack to cool.